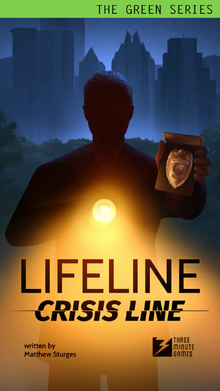 Lifeline: Crisis line is the fifth installment of the Lifeline series. This game follows the life of Alex Esposito, of Austin PD as he navigates his way through a strange murder case, with the help of you, a help text volunteer.
You are first introduced to Alex as someone who is panicking after encountering something unexplainable. You learn that he is a Detective for Austin PD, who has recently started investigating the murder of Jason Leder. Your job is to help him solve Jason's murder and, more importantly, stay alive to do so!
Characters
Edit
Alex is a Detective for Austin PD. There is no description given for his appearance. 
Ad blocker interference detected!
Wikia is a free-to-use site that makes money from advertising. We have a modified experience for viewers using ad blockers

Wikia is not accessible if you've made further modifications. Remove the custom ad blocker rule(s) and the page will load as expected.